I think this is my first Christmas on this blog and I'd like to share my recommendations for this busy gift-giving season. I've decided to choose affordable products, mainly gift sets of my favourite things/from my favourite brands since all the money spent on gifts tend to add up.
Let's start with the some lippies. I think lip products are fantastic gifts because they're fun, colourful and tend to work for most people despite skin type etc.
This
Chi Chi Lip Gloss Favourites
set is awesome because it has a range of colours, and they're small and travel friendly. This set could even be broken up into smaller stocking stuffers, and retails for $17.
This set is the
Brights Creamy Matte Liquid Lipstick Collection by Chi Chi
, but you can also find the set in Nudes. Considering how popular liquid lipstick are nowadays, this lets people try different colours and formulas without breaking the bank. Plus the box is super cute which means less wrapping for the gift giver.
Since we're on a roll with Chi Chi, I'd also like to recommend the
Choose Chi Chi Face Extravaganza palette
. It has some gorgeous eyeshadows, blushes, highlighters and bronzers and is a great kit for people starting with makeup or even people just looking to expand their collection. Chi Chi powder products have always been soft and good quality and this ginormous palette is currently on sale at Myer for $24.
And finally, to round off the lovely products of Chi Chi, here is a travel perfume set of a bunch of their perfumes. I own two of their scents myself, and absolutely love them. They don't smell cheap and childish despite their cute packaging and incredibly affordable price tag.
This is also currently on sale for $2
0.
I recently picked up this
Nude By Nature Bronzed Beauty Cheek kit
at the
Priceline sale
, and I think it's absolutely gorgeous. I love NBN as a brand, as their products are good for the skin and look amazing. This kit is another great starter kit for someone who isn't really into makeup, since it comes with both a bronzer and a blush in one as well as brushes so they don't need to go out and buy their own. Currently retailing for $40 but NBN is stocked in plenty of places, and I'm sure you'll be able to find a sale sometime somewhere.
Another great find at Priceline is the
Katy Perry Parfums Collection
featuring Killer Queen, Oh So Sheer, Spring Reign and Royal Revolution. Mini perfume collections make great gifts if you're not sure of their exact perfume favourites/tastes, or you're not sure what they already own. This retails for $39 which makes it fantastic value for 4 perfumes.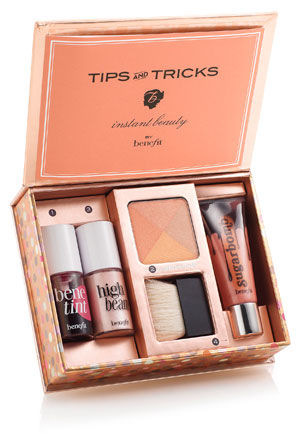 If you're looking for something a little more luxurious with a brand name to it, but still want to stay within budget, this
Benefit set
is perfect. Featuring a range of Benefit favourites and all neatly tucked into an adorable box that again, makes wrapping super easy, this set helps to achieve that perfectly glowy and youthful look for the holiday season.
Another way to glow is with this
Revlon Christmas Photoready Set
. With some fantastic full sized products, this set is another great value kit, and is currently on sale at Myer for $40.
I am a huge fan of Natio and their products, and I love the look of this
Sparkle Gift Set
, $26 at David Jones.
When I first saw this
theBalm palette
I had a mini shock. This is kind of my dream palette, and I want to get my hands on this so bad. This will make a fantastic gift because it features theBalm's best hits and all their popular and most favourite products! It's a steal at $50 for so many different products!

And let's finish off with some nail stuff. I love OPI polishes but they're very pricey, so I think sets like these are fantastic value for yourself or as gifts. The Twinkle set in particular even includes rings to match!
I'll back back to regular reviews very soon, I hope everyone is having a fantastic day!